Pipe acoustic lagging and Wraps are made to block noise that travels through the pipe's walls and ceiling as well as to boost the cavity's ability to absorb sound. A loaded vinyl noise barrier with an aluminum foil facing reinforced with scrim is attached to a 1″ sound absorbent decoupler in order to significantly reduce radiated noise. Our pipe and duct cover performs exceptionally well in both thermal and acoustical aspects.
A reinforced aluminum foil facing, mass loaded, flexible vinyl noise barrier that is adhered to a decoupling layer makes up our high-performance composite pipe acoustic lagging product. The product was designed to lessen noise leakage from ducting, fan housings, pipes, valves, and other mechanical components in commercial, industrial, and residential structures. Perfect acoustic product for duct and pipe lagging applications.
Sound Proofing & Noise control
Class A Flammability Rating
Provides strong sound absorption (reverberation control) and improved transmission loss to maximize noise control.
Outstanding flame resistance
Long service life
Durability – An aluminum foil barrier provides excellent protection to the product once installed
Simple to cut, Simple to install, highly efficient

Material: Convoluted PU foam bonded to a flexible MLV-Mass loaded Vinyl barrier with pure aluminum foil.
Weight: 5kg/m3  ( +- 5%)
Width: 1350mm
Length: 2.5m and 5m
Thickness: 27mm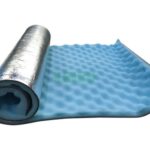 Perfect Acoustic is your trust solution for pipe acoustic lagging and we also supply other Acoustic wall panels.