A comprehensive line of certified, high-performance acoustic louvres for addressing a wide range of environmental noise pollution issues. Perfect Acoustics high absorptive performance type Acoustic louvers reduce unwanted noise transfer into the environment while restricting air movement to a minimum.
Designed to be visually beautiful as well as durable, with optimal acoustic performance and minimal pressure drop. As standard, the frame is inverted U-shaped with 25mm flanges and a flat blade design. Available in single and double bank configurations. Louvers with a depth greater than 300mm will have a twin bank construction with chevron blade design.
Acoustic infill media with outstanding properties such as being inorganic, non-combustible, vermin and moisture proof, and having a density of 48kg/m3 is employed. EN ISO 1182 and ASTM C665 requirements are met. The insulation is lined to prevent media from entering the air stream.
Minimum Single section size (W x H): 300mm x 450mm
Maximum Single section size (W x H): 1800mm x 2400mm.
Finishes:  Powder coated finishes with different Colour
Flange – with or without
Material – Aluminium or GI
Depth -200 , 300 or 600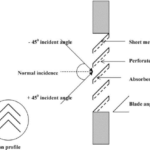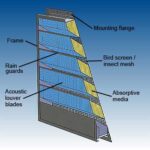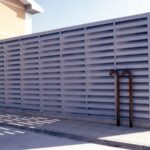 Perfect Acoustic is our trusted Acoustic Louvers supplier in UAE, we also supply acoustic window and door to male your room soundproof.