Perfect Acoustic- Acoustic polyester panel is a sound-absorbing panel and ecologically friendly.
The polyester acoustic panel is comprised of 100% polyester (60% PET recycled fiber and 40% PET virgin fiber). Acoustic Polyster panel provide several environmental benefits over conventional fiberglass sound absorption panels.
Free of formaldehyde
No binding agent
No risk of skin irritation
No risk of respiratory illness
60% PET Recycled Ingredients
No smell
Dust free
Various polyester fiber acoustic wall panels colors
100% recyclable
Class A fire rating


Material: 100% polyester
Acoustic performance: NRC > 0.8
Flammability: ASTM E84
Standard thickness: 9 mm, 12 mm & 24 mm
Standard size of raw materials: 1220 mm x 2440 mm
Shapes: rectangles, squares, 3D shapes or other custom shapes.
Installation method: use structural acoustic sealant, hanging clips or other methods to install.
Colors: white, light gray, dark gray and black, etc.
Thickness: 9mm ,12mm, 24mm
Density: 4 PCF, 7.5 PCF, 6.0 PCF
Edge Detail: Square
NRC: 1″ (0.45) 1″ (0.75) 2″ (0.85)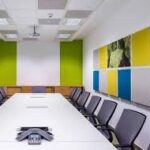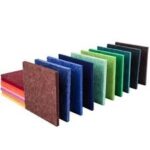 Perfect Acoustic is your trusted supplier and manufacturer of Acoustic Polyster panel, we also provide Acoustic wall panel for your business and residential area.