Industrial sound enclosures in UAE
Welcome you To Perfect Acoustics, your premier location in industrial sound enclosures throughout the United Arab Emirates. We're experts in creating spaces where the noise level is controlled while productivity is maximized and employees are safe. We aim to offer workplaces with optimal audio solutions to make your workplace quieter, safer, and more efficient.
The Significance of Industrial Sound Enclosures
In an industrial space, there is the possibility of noise being an ever-present companion to the health of workers in the workplace, disrupting their work processes as well as posing dangers to safety. Sound enclosures for industrial use can be the most effective way of limiting and regulating noise. They will ensure that the facility is operating efficiently and is in compliance with the regulations. It doesn't matter if it's a factory and machinery rooms or any other industrial space the sound enclosures serve crucial roles in creating a quiet sound environment.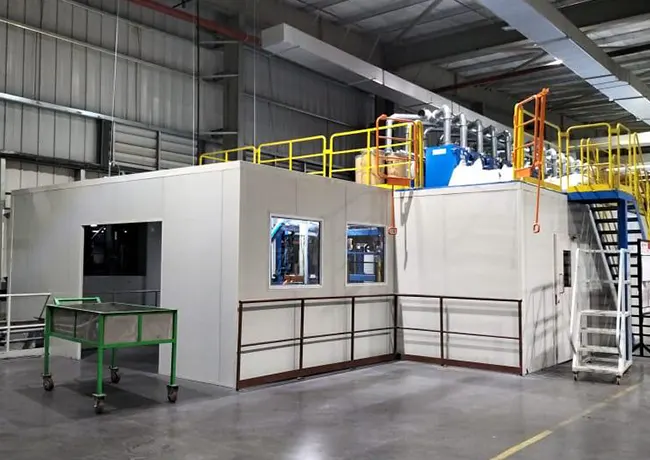 Perfect Acoustics: You're Partner for Sound Enclosure Solutions
Here at Perfect Acoustics, we are determined to provide top-quality solutions to meet the specific industrial needs of sound enclosures. The range we offer is created to ensure that every area of your facility can be peaceful and quiet. Sound levels and improved efficiency:
Factory Sound Closures: Provide a quiet working space for employees by blocking the sound generated by machines and other equipment within your plant for manufacturing.
Equipment Room Sound Enclosures for Machinery: Enhance the efficiency of your machine room by installing our sound enclosures that allow the machinery to run effectively without affecting the surroundings.
Industrial Workspace Sound Enclosures: Your employees should be able to concentrate on their work while avoiding distractions and interruptions in your workplace.
The most cutting-edge technology available to Industrial Sound Enclosures
Perfect Acoustics is at the leading edge of sound enclosure technologies, making use of modern technology to guarantee the highest efficiency. Our expert team with years of experience can tackle all of the complex issues in the field of industrial sound enclosures. If you go with Perfect Acoustics, you can ensure that your needs in acoustics will be addressed with top-quality standards.
Why should you choose the Perfect Audio?
Custom Solutions: We recognize that each industrial space is unique. We can tailor industrial sound enclosures to satisfy your particular requirements and ensure that your workspace is well-insulated.
Quality Assurance: The stringent quality control procedures we employ guarantee that you will receive items that exceed standards in the industry and provide you with assurance.
A Customer-Centric Strategy: Our goal is to make your satisfaction our top priority. Our friendly and knowledgeable staff is available to assist in any way, from selecting the right product up to the installation.
Proven Quality: with numerous positive projects throughout the UAE, Perfect Acoustics has a proven track record of creating acoustic areas for industrial use.
Improve Your Industrial Workspace with the Best Sound
Make your work environment more appealing by using Perfect Acoustics. Join the ranks of thousands of happy customers who have witnessed the change the industrial sound enclosures we offer can bring to workplaces. If you're seeking to build an environment that is more peaceful for manufacturing as well as a more effective machinery area, or even a focused industrial space, Perfect Acoustics is your reliable partner.
Get industrial sound enclosures in UAE to their very best. Call Perfect Acoustics to experience the perfect combination of the acoustics of your facility in the industrial sector a beacon of safety and productivity.