Perfect Acoustical Metal Noise Barrier are a stylish, modular product that combines maximum noise absorption and durability. To immediately lower noise levels and regulate reverberation, our practical perforated panels may be installed anywhere on walls and ceilings.
One of the most adaptable sound absorbers on the market, units are durable enough for use in industrial settings while yet looking good enough to be installed in offices, auditoriums, and gyms. These panels are a very cost-effective solution to your problem because the majority of issues can be resolved with as little as 25–30% coverage of the reflective surface thanks to their great noise reduction qualities.
All panels have a perforated metal noise barrier shell that is fully formed and attractively strong.
A range of mounting techniques.
Shape: Rectangle or Square 
High-Performance noise absorption properties for air-dry enamel paint systems intended for industrial use (NRC -0.90 to 1.05)
Available in 50mm and 100mm thicknesses are panels.
The width of standard panels is 500 mm.
Individual panels are offered in lengths up to minimum 60cm and maximum 4 Meter.
Components made of stainless steel, aluminum, galvanized steel, and corrosion-resistant electro-galvanized steel.
Finish: RAL Power coated.
Available in thicknesses ranging from 14 gauge to 22 gauge.
Chemically cured exterior and marine duty epoxy paint system.
Production Plants and Distribution Facilities
Public Water Treatment Facilities
Offices, conference spaces, and multipurpose rooms
Band, orchestra, and music rooms
Gymnasiums & Swimming Pools, Prisons
Fire and police stations, shooting ranges
Stations for public transportation
Broadcasts from places of worship, theaters, and learning environments
Outdoor Tools Screens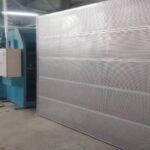 Perfect Acoustical Metal wall panel and  Noise Barrier come in a variety of styles to fit every need, from our premium design to our more affordable contractor style with loose mounting brackets.